Sunday, May 07, 2006
Lessoon Daa Yeig / Lesson Twelve
C'raad t'eh?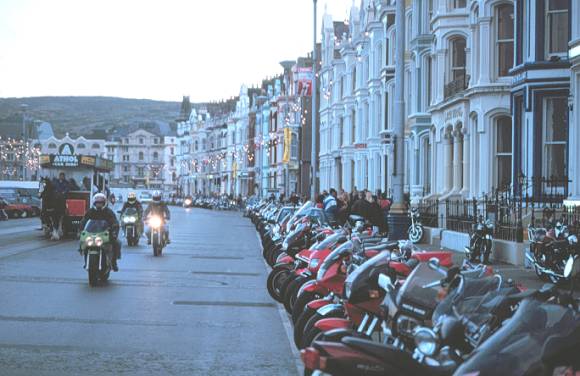 Vel shiu cummal ayns Doolish?
Vel = are
shiu = you (plural / formal)
ayns = in
Doolish? = Douglas?
Cha nel. Ta shin cummal ayns Rhumsaa.
Cha nel = (am not) / (is not) / are not
Ta shin = we are
cummal = living (literally holding / keeping)
ayns = in
Rhumsaa = Ramsey

There are three main types of placename in the Isle of Man; Manx, Norse and English. Many of the English placenames are fairly new, and have been pasted over the Manx names by ignorant officials. There is a link for Manx placenames
here,
and another
here
. The major towns in Manx are Doolish (Douglas), Rhumsaa (Ramsey), Balley Chastel (Castletown), Purt ny h-Inshey (Peel), Kione Droghad (Onchan), Laksaa (Laxey), Purt Chiarn (Port Erin) and Purt le Moirrey (Port St Mary). Neighbouring countries are Nerin (Ireland), Nalbin (Scotland), Sostyn (England), Bretin (Wales) and Y Rank (France).
Comments:
He's simply unique, he boasted to wondering local managers--unique,and
schwester fick ihre freundin
it took me to find him.Violent and unmanageable Punsters, who interrupt others whenengaged in conversation, with Puns or attempts at the same, shall bedeprived of their Joseph Millers , and, if necessary, placed insolitary confinement
erotische manga bilder
.We may add a few further observations
celebrity feet
to support the viewthat these processes designated incorrect are really notfalsifications of the normal defective thinking, but the modes ofactivity of the psychic apparatus when freed from inhibition.The old gentlemen,who have excellent appetites, dispersed at once, one of them politelyasking us if we would
tiersex dvd
not stop and have a bit of bread and a littlemite of cheese.
Post a Comment
<< Home